When you think about internal communications video production can play a key role in reaching all members of your global workforce. Whether you are crafting an annual summit; a sales kickoff meeting; or developing a leadership experience – the idea of a live video broadcast solution can offer broad-reaching benefits of a high-impact delivery for global attendees.
In today's corporate world, more companies have moved to video – and fueled by the global pandemic that allowed many to experience the benefits of live broadcasts – the trend is increasing. Hence, the more you should incorporate video production – not just in your organization's marketing strategy but also in terms of reaching your internal teams. For companies, large and small, using well-produced video content can shape internal communications – and keep employees well-informed and engaged with a company's values, successes, and plans.
So, are you thinking about how to enhance your internal communications? Here's a list of of reasons why you should take advantage of video production for your internal communications.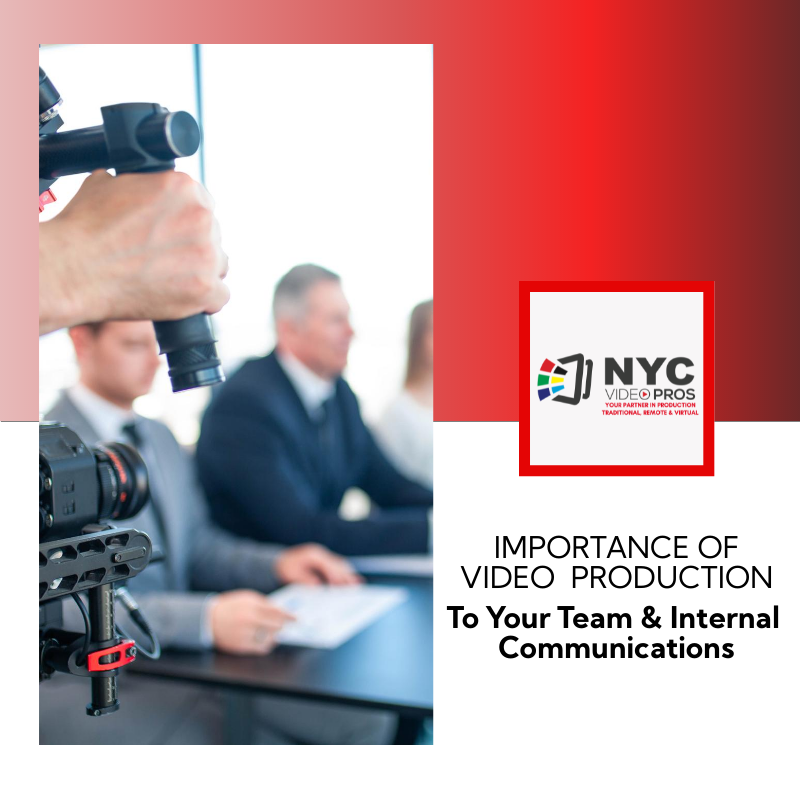 Bridging the Communication Gap
Video content can prove to be quite an effective medium in bridging the communication gap. Video production helps you communicate your employees' goals, strategies, plans, and activities. They convey a message from the CEO or top management to the employees effectively and efficently. The employees are made aware of the company's expectations – and can learn directly from the C-suite which is often otherwise impossible. Video content – live video broadcasts or pre-recorded brand films can be used as a platform to convey messages on company's policies and guidelines. For instance, the need and importance of safety training, introducing new products and services, and it can also be used to communicate the organization's key achievements.
Help Your Employees Make Better Decisions
Since videos can help employees understand the company's goals clearly, it can help employees make better and faster decisions. It can touch a chord with them and motivate them to work harder. It also fosters a positive work environment. Additionally, video broadcasts or live video town halls can be used as a platform to acknowledge hard work and employee contributions.
Help Your Employees Develop Loyalty
Videos can convey a company's brand values, culture, products, and services. It can help employees develop loyalty toward the company and connected with leadership whom they may not normally have facetime with. The impact of video production than is that they feel motivated and more comfortable at work. They feel a sense of belonging and job satisfaction. It also makes them feel confident about what the company is trying to achieve.
Valuable Resource for Your Employees
Videos can be a valuable source of information for your employees. They are not just a mode of communication, instead they become a source for learning. Instead of your workforce taking time to visit the company website or read the company magazine, a video or a live broadcast can serve the purpose. Videos can help your employees access information quickly. They can be accessed at the workplace or at home.
Increase Productivity for Your Employees
Videos can be used by organizations across different departments. It can help employees perform their day to day tasks. Producing videos such as training videos can be an effective way to give easy access to important information and educate employees on various processes. It can improve their performance at work by making them knowledgeable about the procedures.
Improve Your Organization's Image
In today's competitive world, companies need to increase brand awareness for their customers to grow. They can do so by building a good reputation among customers. Who would be better to do this but your employees as brand ambassadors. An employee that is well-informed about his/ her company's goals and strategy thru video production can build strong connections to your current customers and portray your brand to your potential clients. Their own enthusiasm helps the company grow.
Video Production Can Boost Sales
Videos can be used in various scenarios such as while answering customer queries, through electronic direct mailers, on websites, CRM, etc. Videos can be instrumental in boosting sales. It helps sales teams clinch deals. It can assist your team in presenting information to customers. They can help employees in communicating key messages, understand their products and services, and identify their customers' needs.
As you can see, video production has both internal and external benefits. Other than boosting morale, it also helps increase employee productivity, improves communication, and can impact the bottom-line with boosted sales. Hence, it is important to take advantage of the advantages of video production and live streaming to incorporate these tools it into your team and your internal communication plans.