Video broadcast/s are a hot new trend in marketing that should be incorporated into every professional's digital strategy. They allow businesses to connect with clients and potential customers on a much more personal level, creating a fun experience that can lead to deeper brand engagement and higher conversions.
From promotional videos to live videos, streaming video has become one of the most effective ways to market your business, especially as more consumers continue to utilize mobile devices. Video is an engaging (and familiar) way for people to not only learn about your brand, they can also become loyal fans.
So, now that today's marketers know just how effective video can be, what's next? How do you plan and execute a successful video broadcast?
Planning
Planning out your video broadcast can be a tricky process. From everything from choosing a platform for the virtual broadcast, to creating talking points to planning the event itself, it takes more than just having an experienced host to truly maximize your efforts.
First, you'll need to decide which type of event you want to create. For many, the obvious choice would be a live webinar or conference, but anything with a target audience in mind could work, from a weekly web show to a question and answer session. Then, you'll need to pick the best avenue to deliver the broadcast – taking into account the user experience, data collection, and brand experience.
As for talking points, it is important that your broadcast is consistent and relevant to your brand, but you will also want to to keep things personal. Talk about any upcoming news or developments, but also try to show some personality. Be entertaining with the virtual event production, but not over the top, and in-line with what you want attendees to associate with your organization.
For your broadcast, choose a location that is fitting with your brand. A conference room or your office may be fine for some brands, for others, hosting the event at a professional broadcast studio may be the better option.
Finally, make sure you have a plan in place before the actual event, in case anything goes wrong. Make sure you have the right equipment, including cameras, scenic elements, audio and lighting requirements. If you are live streaming, make sure your internet connection can handle the bandwidth and that a contingency plan is in place and tested.
Schedule, Duration and Timing
Once you have planned out your broadcast, it is time to schedule it. Try to pick a time that would be convenient for your target audience, and if you are dealing with a global audience that you have taken into that into account as you have planned the timing for the show. For some organizations that may mean planning several live shows or re-airing a broader for different geographical regions.
Plan your broadcast duration. This is dependent on your goals, but in most cases, events that last between 30-60 minutes should be long enough to keep your audience engaged.
Finally, choose the best time for the event. This will depend on your target audience, and it is important to account for any geographic and time zone differences. Keep in mind that a video broadcast do not need to be a once-and-done type of event. In fact, some brands offer weekly or monthly broadcasts, creating a long-term connection with their followers.
Promoting, Speaker Preparation & Testing
Before the event, promotion is key. From social media invitations to email blasts, make sure that your speakers, attendees, and followers are all aware of the event. Follow the same branding guidelines used for any other marketing campaigns. Also , be sure to spread the word to any relevant media outlets and publications, or to any bloggers that cover your industry.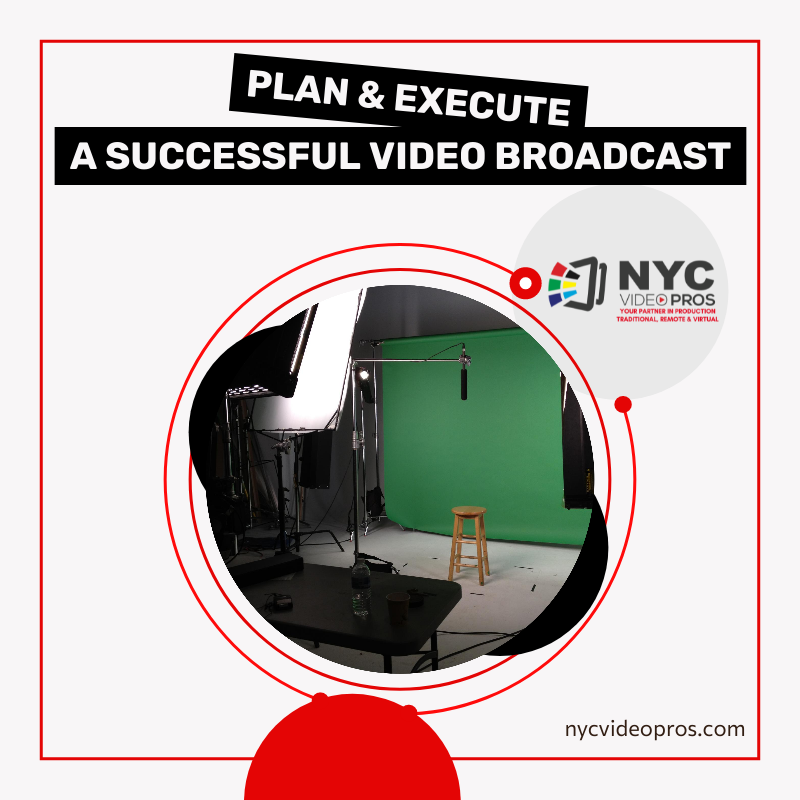 The best way to prepare your speaker/s for an event is to make sure that they are well versed in what will be covered. Have them create a list of talking points and your brand messaging prior to the event.
Test the setup prior to the event. Sometimes things go wrong and issues arise. Have your speaker/s arrive early, and go over any last-minute details on the day of your event. When it comes to equipment, don't wait until the actual event to make sure that your equipment is working. Make sure everything is tested and working the day before. Check everything, from cables to lighting to audio to video.
The video production should go off without a hitch if you have properly planned, tested, and rehearsed. This means having the right equipment, including cameras, microphones, teleprompters, lighting, and a reliable internet connection. Ideally, everything should be set up well in advance of the broadcast, so that you do not have to scramble when the big day finally arrives.
During the broadcast, be sure to address any technical issues as they occur. To that end, behind the scenes make sure you have the right technology and team to execute the production. While we are discussing virtual broadcasts the reality is they require the same attention to detail as producing IRL events.
Execution
When the day of your broadcast rolls around, it is important for presenters to remember two things: Have fun and be yourself. The more comfortable your presenters are, the more your audience will feel involved in the program, take an active role in asking questions, and become endeared to the brand.
Whatever type of event you host, it's important to keep your key goals in mind. Are you looking to engage and reward your current audience, or do you want to draw in new, potential customers? In the case of the former, your broadcast should be fun and interactive. For example, you could host a live Q or A session on Twitter or Instagram, letting fans ask you anything they want – even in advance of the virtual broadcast so that you can source topics and questions that you want to include in the live broadcast.
It's important to keep your broadcast fresh and dynamic, so don't be afraid to change things up. If you host a weekly web series, for example, feature a guest host, offer giveaways or discuss trending topics. When your goal is to draw in a new audience, it's important to focus on your brand and what you have to offer. Highlight your company's culture, products and services and start monetizing your broadcasts. These audiences are valuable to your company and should be treated that way.
On the day of your broadcast, make sure you are up for the task. Make sure your host or speaker maintains constant eye contact with the camera, and engages your audience as much as possible. Make sure the program has proper introductions including the guests, as well as the topic at hand. You don't want to take too much time on introductions, so keep it short, but make sure to introduce everyone.
You'll need to make sure everyone can hear and see the speaker. Once everyone is tuned in, it's time to start broadcasting! Depending on the length of your event, this can take anywhere from 30 minutes to a full day. Be sure questions are answered as clearly as possible, and if streaming, keep viewers engaged by asking for their input.
For event speakers – as you talk, remember to speak slowly and clearly, and to remain on topic. The days of filler and irrelevant content are long gone, and you don't want a video broadcast to turn into a rambling mess. Finally, at the end of your event, make sure to put in enough time to thank everyone for showing up, and let them know when, where and how they can re-watch the broadcast.
After your video broadcast, it's important to follow up with your attendees and followers. Start by sending out a follow-up email, thanking your audience for attending, and including links to any recorded footage. You may also want to include links to any important statistics, such as an increased number of subscribers, or a certain number of customers that purchased or took advantage of the featured product or service.
Take the time to respond to all comments and reviews. If your broadcast was interesting enough, your audience will be all too eager to be heard. Whether you are hosting a live web event or a weekly web series, your video broadcast should be as unique as your brand. Keep it fun, engaging and relevant to your audience, and you will start to draw in valuable new audience in the process.
Video broadcasts are interactive, personal and fun, and can have a big impact on business. Live streaming and pre-recorded videos are a vital way to maximize your company's reach and engagement; however, it is important that you plan out your broadcast beforehand. From picking the right platform to choosing the perfect talking points, planning is the most important part of a successful video broadcast. At the same time, they are a great way to engage your audience on a more intimate level, leading to greater brand loyalty and a higher ROI.
If you need help in producing video broadcasts or your next virtual event production, feel free to contact us thru the form below or contact us at 212-931-4866.