When you need the best New York City video production company, it is important to ask yourself certain questions before selecting one. There are over 1000 video companies in New York to choose from, so choosing the right one is sometimes difficult because there are so many variables that come into play. However, when in doubt, make sure you ask them these six questions before making a decision.
How skilled is the company?
To know what quality of videos you can expect from a company, you need to take a look at their video production portfolio. Simply looking at their website and browsing through their videos will tell you a lot about their skill level. The more videos they can show you, the better. It is important to ask the company about their experience. How long have they been operating and the clients they've worked with. It is important to know how skilled the New York City video production company is to guarantee the job will be done right and that they will understand how to support your video production project.
Can they handle your project?
When selecting a video company, you need to make sure they have the skills to handle your project. Whether it is a corporate video, a brand film, or a marketing video there are a lot of variables that need to be taken into consideration. A good company will value their clients' wishes and be willing to create customized videos for them. Talk about the kind of videos you want, and get a sense as to if this is the kind of project the video production company has produced, and get a sense as to whether they can offer valuable suggestions for your project. A good video company will help you brainstorm ideas, and will value your thoughts and ideas.
This can also include their familiarity to your industry. While it is important to look at a video production companies portfolio, it is also important to pay attention to their style. Every industry has a certain style and New York video production companies who are experienced will know this and will be able to capture it. So look through their portfolio and see how many of their videos fit the industry you're in. This will help you see if they will be able to meet your needs.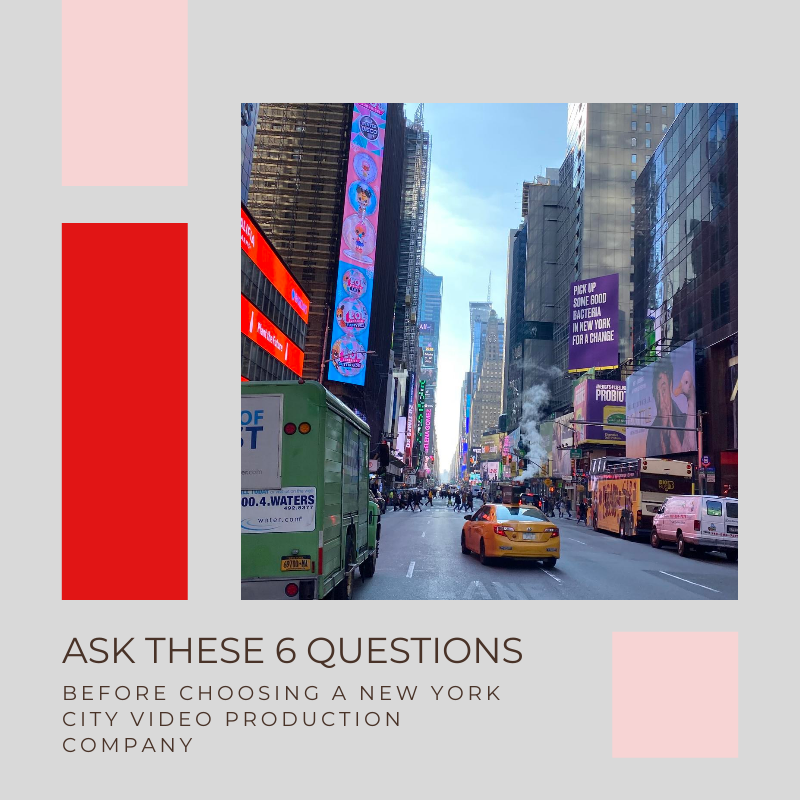 How good is their equipment and are they using the latest technology?
The quality of the video production that the New York City video production company can produce for you is a factor of both using the latest technology but also having deep production experience which can translate into the production of your video production project. So, it's important to find out what kinds of equipment the New York video production company uses but also learn about their experiences to understand how they will interpret your video production project and work with you to synthesize a final corporate video production that meets your vision. 
How is the editing done?
The editing is very important in videos. Ask the company about the kind of editing software they use. The editing should be professional and should always match the theme and feel of your brand or organization. Always ask for references and samples of their work so that you can get a better idea of their editing skills. A professional New York City video production company and its team can make or break a video so it is an important thing to consider when choosing a video company.
How good is the customer service?
A company with exceptional customer service, will care about your needs and will value your ideas. It is important to discuss your needs in detail, so ask the company if they have time to talk. A good New York City video production company will always be on top of your project, keeping you in the loop and answer your questions.
Before you sign a contract, make sure to contact the company and ask them a few important questions. Get them to discuss the details of the project with you. Make sure they explain things clearly. Talk about their client relations as well, a well-reputed company will have a good management team and skilled employees – all of which leads to a successful project.
How much will it cost?
Video production is a complicated process, and the price can vary from one company to another. It is best that you get in touch with a few companies and ask them about their rates. Make sure the company you are choosing offers high-quality videos at a reasonable rate.
Production costs include everything that needs to be done to make a video. When you're selecting a New York video production company pay careful attention to the rate structure and try to find a video production partner that focuses on producing your video with a flat-rate so that you can avoid any budgetary concerns or surprises..
These questions will help you choose the right New York City video production company, and with careful planning, you can get a great video made at a reasonable price.