Corporate event productions help companies develop internal relationships and external connections. Some companies also use them as a way to reward employees for their work or simply for its employees' efforts towards the betterment of the company in general. Planning corporate event production involves a lot of details that need to be taken into account in order for everything to run smoothly. That being said, here are some tips to make your conference a success.
Identifying Your Goal
Before anything else, it is important to identify the goal of any corporate event. This will define all the other steps that you will take to make this event a success. If your planning this for a specific client, it is vital to talk to them and find out what is their end goal. 
Define Your Audience and Their Needs
When planning a conference, it's of the utmost importance that you first determine your target audience. Who is interested in the type of conference you're organizing? Is it for a very specific industry, is it for certain employees or is it for the general public? Knowing who your audience is and what they're looking for can help your planning immensely. It will also help you gauge your marketing plan and your budget.
Research Potential Sponsors
Although your event may need no sponsorship at all, it's always a great idea to research potential sponsors and know which ones would be a perfect fit for your company. The sponsorship can help you pay for things you wouldn't have been able to on your own, such as the venue and the food.
Budget
When you have identified the goal of your event, the next step is to create a budget. Keep in mind the type of event that you are hosting, the number of attendees, the location, and other factors which will influence your budget. One of the most common mistakes that companies make when organizing an event is going over budget. This can happen for several reasons, including underestimating cost, adding too many unnecessary details, and underestimating how long the event will take. It is, therefore, important to go over the budget carefully, listing the necessities and extras, and deciding how much should be allocated to each.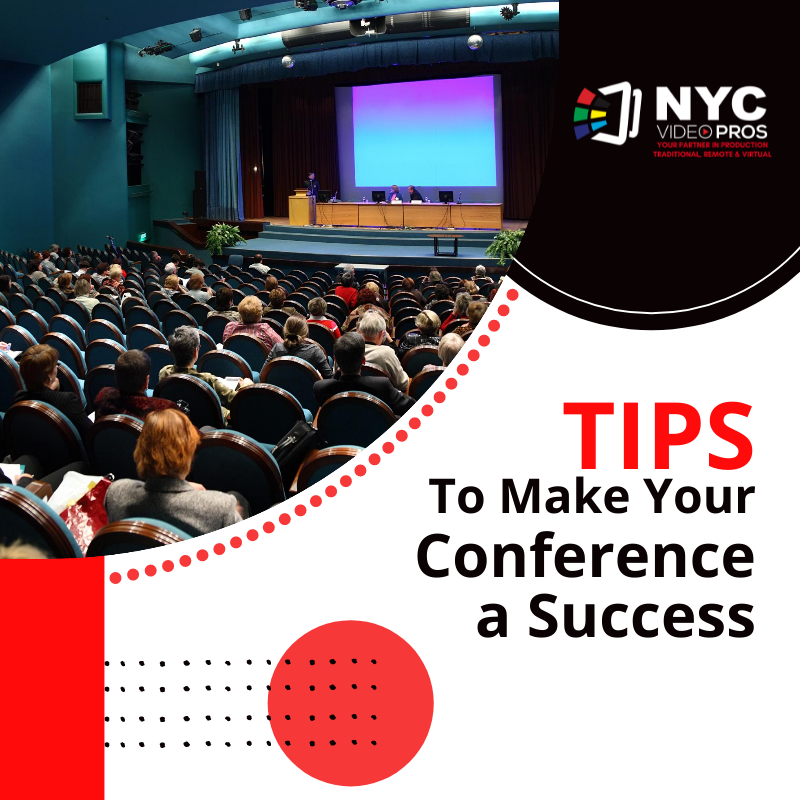 Set the Right Tone
When planning corporate event production, it is important to set the right tone. This refers to a company's message, which should be delivered in a professional way. Some conferences and meetings can be too formal, while others may be too casual. What is important is to be in the right place for the event at hand.
Visualize the Event
Another way in which companies can plan successful corporate event production is through visualization. This involves imagining different scenarios and asking oneself how all of these details will come together to make a successful conference. By visualizing the conference, one can work out potential problems and think of solutions to these potential problems.
In-Person, Virtual Event or Hybrid Event
The next question you need to ask yourself is what sort of format you want the conference to have. You can have it in person or virtually, also known as a webinar. Attendees can also come to the event in-person, and then be encouraged to engage in online conversations. Hybrid event productions combine in-person and virtual elements. They also let attendees choose how they engage, allowing them to choose which they prefer, or allowing them to engage both in and outside of the event.
Asking for Help & Make the Necessary Reservations
When planning corporate events, it is important to seek help from professionals. Corporate event production, such as conferences, involve a wide range of professionals, such as AV rental providers, caterers, and venue managers. These professionals can help make the conference successful, and, consequently, boost a company's image. Once you are done with the general planning, it's time to make your reservations. Make sure you book the venue, speaker, caterer, parking, audio-visual, and anything else that you may need.
Work with the Venue (for IRL & Hybrid Events)
When planning corporate events, it is important to work effectively with the event venue. This may include scheduling, parking, catering, and even room set-up. This will ensure that everything will run smoothly on the day.
Work on the Schedule
The next step is to create a run of show and stick to it. This means having everything planned out from the moment you first contact the venue to when someone hands you your invoice. This also includes everything in between like the food, the speakers, the entertainment, and everything else that goes into planning a successful event. The schedule also includes the tasks your employees have to complete, such as creating and sending out the invitations, taking care of the RSVPs, and checking in the attendees.
Be Flexible
Sometimes things do not go according to plan, no matter how well-organized. This may be due to professional reasons or simple things like the weather. It is important to be flexible. Adapt to the circumstances and follow the right path to make the conference a success. 
Communication
Communication is key when it comes to planning a successful conference. You need to be in constant communication with your team and your sponsors and make sure everyone is on the same page. The better the communication, the smoother the event will go.
Making Sure the Event is the Right Fit
Another thing that you need to remember is that the event should fit the company and not the other way around. If the event doesn't fit the company, then it's unlikely to be successful.
Corporate event production such as conferences are an important part of relationships within a business, and between a business and its customers. Hence, it is important to plan and execute these events properly. When hosting corporate events, it's important that you keep these things in mind as it will help turn your conference into a success.