Video production has increasingly played an important role in marketing strategies, PR campaigns, and events prior to the pandemic. While Covid-19 has ushered in sweeping changes to the communications landscape, video production's role has been further cemented in the midst of the pandemic, which has driven audiences to virtual events and Zoom calls that are further putting video in focus. All of this is to say that as the pandemic begins to wind down we expect that video will continue to play a vital role as a pillar of marketing and communications campaigns. Further, we expect like all facets of life, there will be some long-tail effects from Covid-19 on production. So, as marketing professionals begin to turn their attention to executing creative video campaigns and broadcasts that were dreamt up during the last year here are three trends that we think will drive video production forward in a post-Covid world.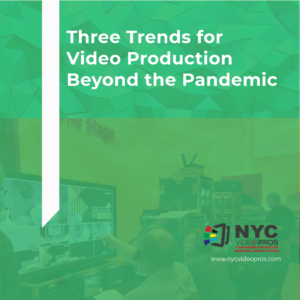 Increased use of remote video production
New tools and technologies emerged in the course of the pandemic that normalized remote video production services. The possibilities are endless and will allow organizations looking to incorporate voices from geographically remote participants into any form of video production well beyond the pandemic.
Socially distanced videos
With social distance guidelines now the norm we can expect to see this reflected in future video productions. Audiences will expect that narratives shared in newly produced video content both for corporate video productions and those for entertainment will be produced to reflect the times and have socially distanced visuals.
Virtual Broadcasts Are Here to Stay
Through the pivot to virtual events organizations learned to think like television producers and virtual event broadcasts became the cornerstone to sharing information for conferences, galas, fundraisers, as well as sales and annual meetings. These tools have proven cost-effective and efficient solutions that are here for the long-term and will play a role in both hybrid events and those that find success in being delivered entirely virtually.