With the annual television awards season upon us, the Golden Globes put virtual production in the spotlight. Amidst the glitz and glam of Hollywood virtual production took centerstage as television and movie programs were honored with the annual awards in a star-studded night.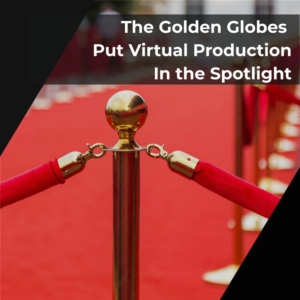 Almost a year into the global pandemic, virtual production has evolved in developed into a new powerful tool akin to those long used by news outlets to develop programs both virtual and broadcast that are seamless video productions.
Now, as exemplified by the Golden Globes a virtual production can be hybrid in nature combining live studio elements with those captured via remote video production and assembled with the litany of production elements including branding & motion graphics, music, video roll-ins, and of course sponsored content.
Of course, the Golden Globes also demonstrated how crucial it is to plan virtual event productions to ensure they're successful. So, after a night of missed audio cues, zoom failures, and a variety of other notable production issues let's talk about what you can learn from one of Hollywood's biggest nights and apply toward your next virtual event production.
Hybrid Strategy
As our world moves back toward a new normal think about how you can produce virtual and hybrid event productions using a hybrid strategy. To that end, a hybrid might mean a production filmed in a studio and tied-in with virtual participants or it may mean an in-person and virtual event that are blended and run concurrently.
Mind the Gap
The Golden Globes showed us that presenters and participants may bring in other parties to a production that we need to be mindful of when we're producing virtual events. Will your next guest also have an entourage on-camera that you need to be prepared with identifying to your viewing audience? Early reports are viewers were confused by many of the secondary faces that were on camera with Hollywood's A-listers. You want to avoid this information gap and eliminate any kind of confusion.
Comms & Tech Checks are Vital
Audio delays, zoom failures, these technical issues underline the importance of communications and thorough technical pre-production checks to ensure smooth virtual event productions – which as evidenced by the Golden Globes can still fall. Further, it underlines the importance of having two-way communications with hosts, moderators, and the like to ensure successful navigation of technical failures and that ultimately the show goes on.